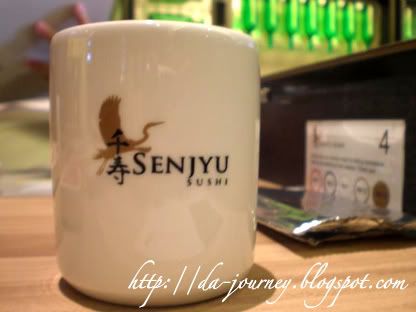 Senjyu Sushi + Sakae Izakaya is located at the old Genki Sushi outlet in Cineleisure, next to Mc'Donalds. Senjyu Sushi serves the more common Japanese food like sushi, sashimi, noodles and etc, while Sakae Izakaya concentrates more on Japanese Tapas, desserts and drinks. They are still having the conveyor belt concept in the store, most probably because it was already fitted in there during Genki Sushi time.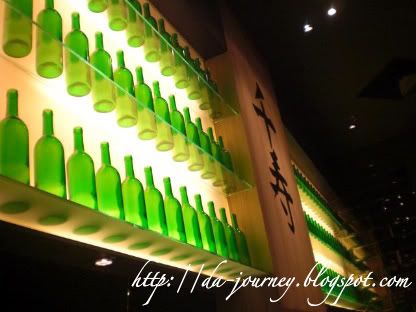 The outlet is nicely decorated in cool black and lots of green bottles. It reminds me of the
Ichiban Boshi @ Pavillion KL
. We went there on a weekday, it wasn't crowded. Only 2 tables were occupied. It could be due to weekday or could be due to the prices shown on the menu. This is more like a place for the upmarket than the usual conveyor belt Japanese restaurants like Sakae Sushi, Sushi King or Sushi Zanmai.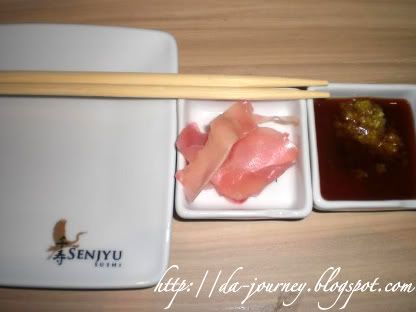 The menu offerings are quite extensive and special. You may find the common Japanese food like salmon sushi, soft shell crab, udon and etc. You may also find the uncommon food - hard to find in any common Japanese restaurants - like wagyu beef and foie gras. Not only that, they served the finely grated wasabi root, unlike the ready-to-use wasabi paste served in any restaurant. I reckon, the grated wasabi root is not as
hot
as the wasabi paste.
We had tough time deciding what to order, firstly because of the extensive menu and secondly because of the price. We had not tried neither wagyu beef nor foei gras before. So we had it on our visits.
Shioyaki means
[shee-oh-YAH-kee] Japanese for "salt-grilled," referring to a traditional method of grilling beef, poultry or fish in particular. Instead of coating food with sauce, generous amounts of salt are rubbed over the surface. The meat or fish is often set aside for 30 minutes or more before being broiled or cooked over very hot coals.
Extracted from
here
.
Well, we are not wagyu beef expert, we do not know how to grade the wagyu beef. I guess the wagyu beef that we have here is some lower grade beef as this dish only cost RM49.90. Though it was some lower grade beef, it still tasted superb. The beef texture was totally different from the normal beef that we can find in the supermarket. The beefy smell was stronger and the meat just melt in your mouth after grilling on the coals for few minutes. LKC likes this dish so much that he ordered again on our second visit.
Next up is the Foie Gras and Oyster Mentai Maki (Foei Gras, Oyster, Cod Fish Roe). It was our first time having foei gras as well. Not sure about the grading as well. This dish cost RM24.90, with 2 pieces of foei gras and 2 pieces of oysters. The foie gras and the oysters were fried with a tad of cheese. I'm not too keen on oyster as I do not like the fishy taste, so I left it for LKC. The foei gras wasn't as good as I thought. It was too oily to my liking.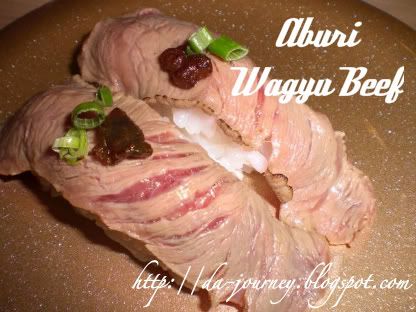 Moving on, we had this Aburi Wagyu Beef (RM16). The wagyu beef was grilled to medium rare and serve on Japanese rice.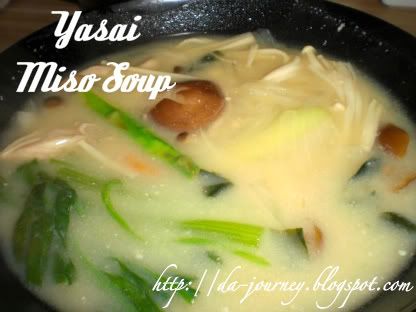 This is the Yasai Miso Soup (RM8.90). It did not taste like the common RM1.90 miso soup. It had shiitake mushroom and as well as the enokitake. I love this miso soup as I'm a mushroom lover.
Moving out from the Senjyu Sushi kitchen, here are some of the dishes that we had from the Sakae Izakaya kitchen.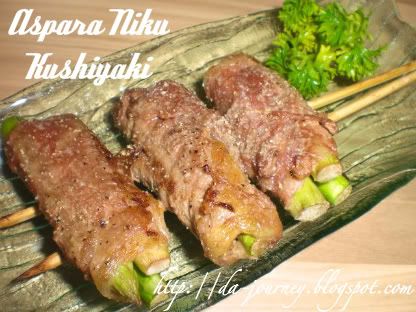 This is the aspara niku kushiyaki - grilled striploin beef rolled with asparagus. It's cheap, only RM5.90 and it was nice too.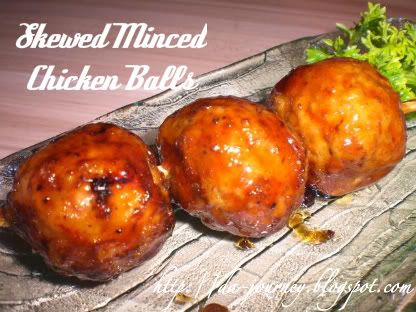 Tsukune - skewered minced chicken balls (RM4.90). Nothing much to comment on this as it's just grilled chicken balls.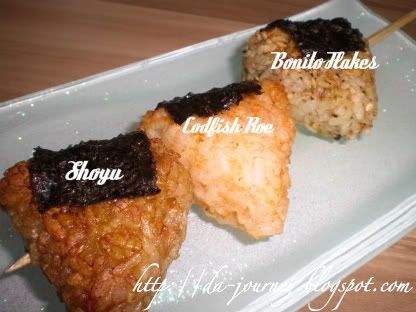 Lastly, the yaki origiri - grilled triangular rice balls (RM4.90) (Shoyu, Codfish roe and Bonito flakes). The rice was grilled till it is harden (is that the correct word). The texture is something like the rice cracker, but harder.