23rd April 2009
We booked a Phi Phi Don Day Tour on the day before and paid 900 baht per person for this tour. It was one of the cheapest Phi Phi Don Day tour we found as we checked on few tour agency stalls and they charged around 1200-1400 baht per person.
Started the day with breakfast at the hotel.
After breakfast, waited at the lobby of the hotel for pickup from the tour agency.
Krabi La Playa Resort
We thought it was something fun to sit at the front of the speed boat as we will get to see more beautiful scenery. We were wrong...very wrong. It was a very hot sunny day. We already started sunbathing on the boat before we arrived at the beach. The wave was so strong and as the boat hit the wave, we were totally "flew" up from our seat. We had to hold on the hand rail all the time and my arm banged on the hand rail and caused bruises.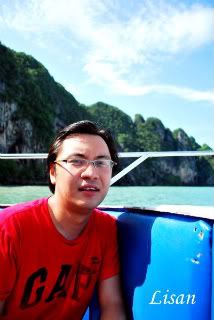 First stop was Railay Beach to pick up other passengers.
After spending like 30 minutes at Bamboo Island, we headed to Viking Cave. The cave contains prehistoric Viking ship cave painting on the wall.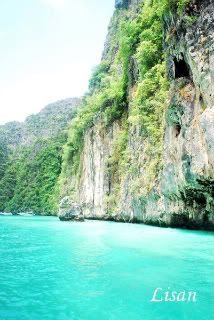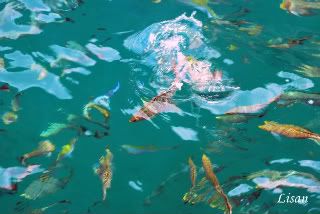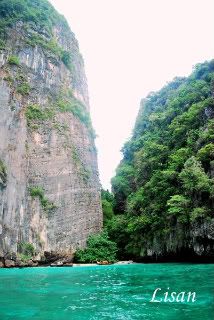 According to the tour guide, Leonardo di Caprio jumped from this cliff in the movie The Beach...I doubt.
Next destination on the itinerary was Pileh Bay where we stopped by for snorkelling...ok, not we, as I do not know how to swim.
"Pileh Bay is a small lagoon-like bay. Entrance to the bay is only at low tide although the far end of the bay drops off to form a small lagoon. A small beach is located in one corner of the bay."(credit to http://www.divingphi.com/snorkeling_phi_phi_ley.php)
LKC went for snorkeling
After snorkeled for like 15 minutes at the Pileh Bay, we went to Monkey Bay for another round or snorkeling.
Monkey Bay
It was almost time for lunch and we stopped at Phi Phi Don for lunch. Personally, I feel that the Phi Phi Don is too overrated. The beach is not clean and the water is not clear anymore.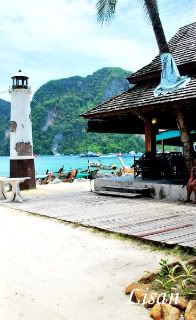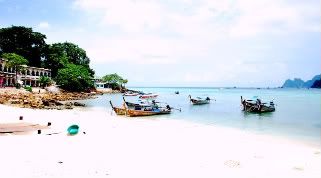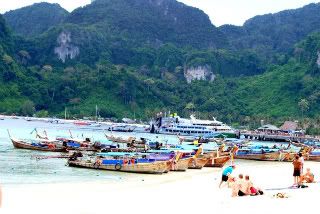 We were supposed to go to Maya Bay but the wave was too strong and it was not safe to go there. The journey back to Phra Nang Bay was an adventurous one. Few of the passengers actually vomited on the way back. Arrived at Phra Nang Bay around 4 something in the evening and we were transfered back to hotel for rest.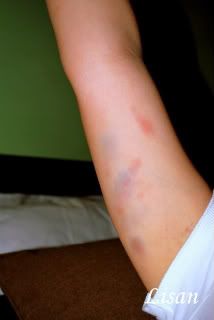 This is my arm after repeatedly banging on the rail for 30 minutes
We had our dinner at a Thai hawker stall just nearby our hotel.
Thailand and coconut juice - perfect match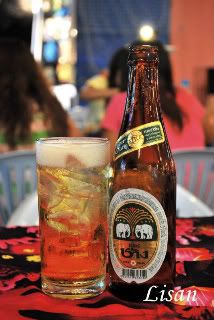 LKC had the local beer - Chang Beer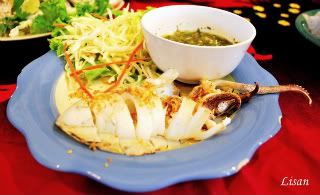 Barbequed squid

Steam red snapper with chillies and lime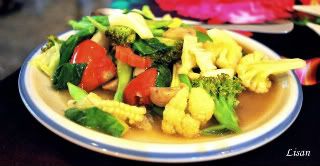 Fried mix vegetables with oyster sauce