LKC visited a customer at Bank of China at Jalan Ampang on last Thursday. So he dropped me at KLCC before heading to the customer's site in the morning and waited for me to finish work at KLCC. Since both of us were at the KL city, we would often take the opportunity to check out something that can only be found in KL, but not in PJ.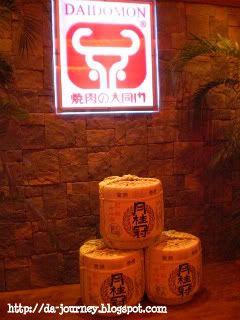 Earlier, we wanted to go to the Korea Village at Ampang there since it was quite some time since our last Korean meal. Later only I remember about the
Daidomon Charcoal Barbeque Japanese Restaurant
@ Great Eastern Mall @ Jalan Ampang, which I saw on The Sun about a month ago. What really attracted us was the Wagyu Beef that they serve. We really wanted to try this Wagyu beef long long time ago, but it was too expensive. We saw a restaurant a Pavillion (forgot the name) that serve Wagyu beef as well but they are selling it at around RM200 per 100 gram. Wow...wow...wow.
Ok, back to Daidomon. They claim that "DAIDOMON is the only one Japanese Yakiniku Restaurant that sells the highes grade of Wagyu Beef in Malaysia". Hmm...sounds very interesting and very attractive too.
They were having some promotion on the Washoku & Yakiniku Buffet. The usual price for an adult is RM99 but it's only at RM68 per pax. We opted for this buffet and at first planned to order the wagyu beef as an ala-carte.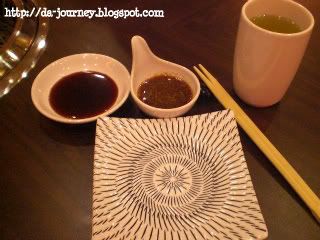 Well, this buffet style was more like an ala-carte style whereby you do not need to go out to get your food. You'll be given a menu and you just have to order the food that you would like and the food will be served to you shortly. You can "eat-all-you-can" but please bear in mind that any leftover will be charged RM20 per 100 gram.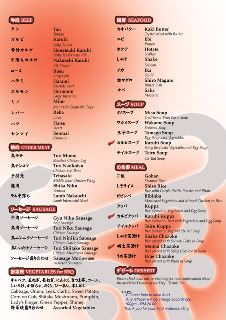 Lets find out what we had...

Salmon sashimi

F-R-E-S-H!!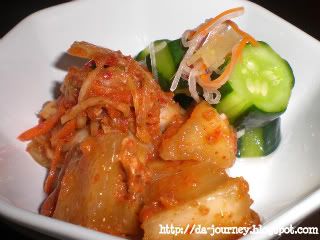 Kimuchi Moriawase

Consist of Kimuchi (spicy chinese cabbage pickle), Kakuteki (spicy radish pickle) and Oikimuchi (Japanese cucumber pickle). Not a big fan of Kakuteki, the other two pickles were tasted quite okay.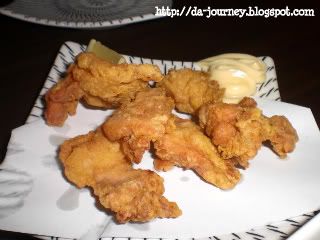 Tori Kara Age - Deep fried boneless chicken

The tori kara age was still burning hot and it was not just boneless, it was 'fatless' too!!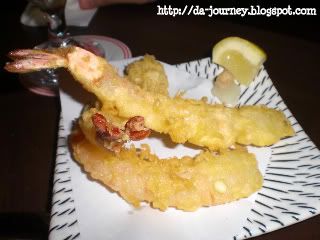 Ebi Tempura - Deep Fried Prawns

I didn't try this, LKC had it all. LKC said that the Ebi Tempura was "hou-hou mei arr!!".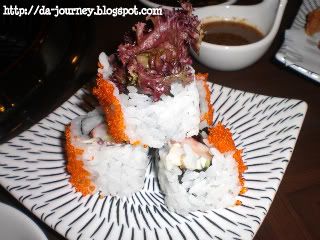 California Maki


For the BBQ, we ordered different parts of beef...something very interesting.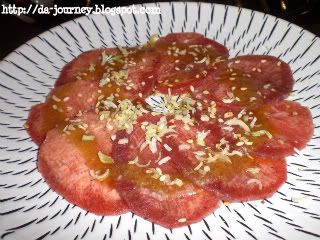 Tan - Tongue

Cruncy. Never thought it would be so crunchy. What a surprise!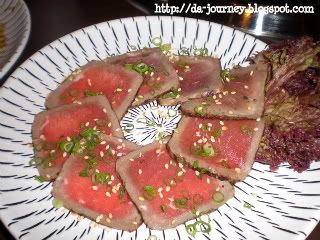 Karubi - Belly Tender

Tasted so-so only. But it was one of the highly recommended by the waitress.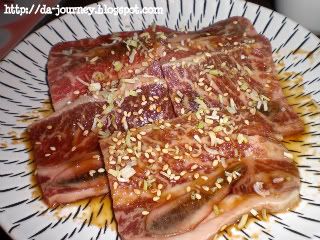 Honetsuki Karubi - Belly Tender with Ribs

Not bad also. But nothing much special. LKC didn't really like it.

Horumon - Large Intestine

I'm not a big fan of internal organ. LKC had it all and he loves it very much.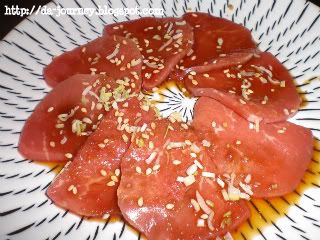 Rosu - Striploin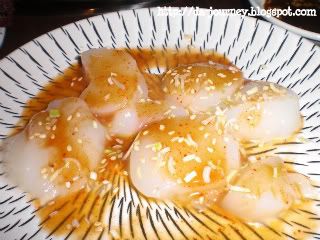 Hotate - Scallop

Fresh and very delicious!

Kaki Butter - Oyster Meat with Butter

Not a big fan of oyster either. LKC had it all too. He said it was fresh too.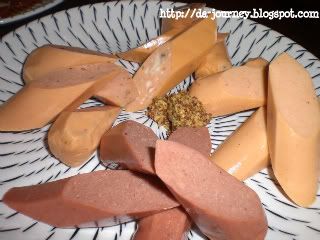 Sausage Moriawase - Assorted sausages

Consist of Gyu Niku Sausage (beef sausage), Tori Niku Sausage (chicken sausage), Tori Niniku Sausage (chicken garlic sausage), Tori Shiitake Sausage (chicken mushroom sausage)
It was a very huge portion but overall the sausages tasted very good especially the Gyu Niku Sausage. Do not order this unless you have a very big stomach!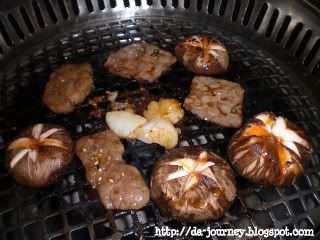 Shiitake Mushroom
Again, I forgot to take a picture of this shiitake mushroom. The best shiitake mushroom could be found in Daidomon. Tried at
Ichiban Boshi
and
Sushi Zanmai
, but Daidomon deserves to be crowned serving the best shiitake mushroom. If you can see it clearly, there was some red sauce on top of the mushroom. I think this special red sauce was the trick to this wonderful shiitake mushroom.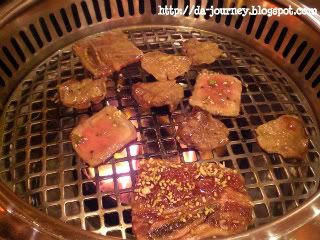 The charcoal barbeque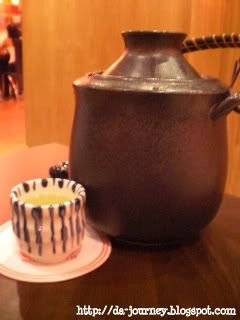 House Pour Sake - Hot Sake 350ml (RM50.00)

Food: 4 out of 5
Huge variety of choices. The buffet menu itself is already more than enough. If you do not feel like taking the buffet, then you may opt for the ala-carte. Check out the main menu
here
! All the meat and seafood served were very fresh.
Beverage: 3 out of 5
Complimentary green tea. Additionally we ordered the House Pour Sake, which was served hot. Personally, I do not find this sake nice. I still prefer the
Hefe-Weiβbier Dunkel
found in Bavarian Bierhaus German Restaurant & Bar.
Environment: 3 out of 5
Located at one of the busiest street in KL, it could be a hassle to visit this restaurant. Anyhow, it was quite easy to find parking and the parking rate wasn't expensive. The ambiance of this restaurant was very cosy. Though it is a BBQ restaurant, you will not sense any charcoal smell like any other BBQ restaurants.
Service: 4 out of 5
The waitress was very attentive and recommended us different type of meat to try for the barbeque. The plates were collected right away and they even helped to "control" the BBQ fire.
Price: 4 out of 5
The buffet that we had was indeed very worthy. Don't talk about the ala-carte menu, but judging from the varieties of the buffet menu, I think we actually had more than what we paid. I'm not sure how long the promotion will last, so try it yourself before the promotion ends.
Highly recommended to go if you're a beef lover like us! We still didn't manage to try the wagyu beef!! Must go and try the wagyu beef on our next visit.