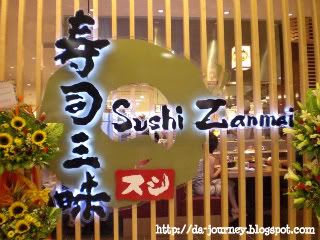 Newly opened...Sushi Zanmai @ 1-Utama

Sushi Zanmai
has finally opened an outlet at 1-Utama after Sunway Pyramid and The Gardens. After trying out the
Pasta Zanmai,
which is located at the lower ground floor of 1-Utama, we were very eager to try out this newly opened outlet at 1-Utama.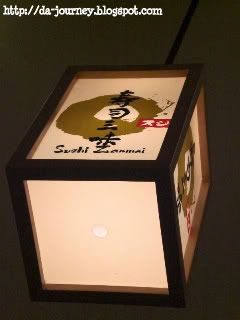 They have sweet soysauce...my fave!


The gigantic menu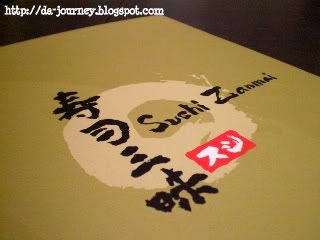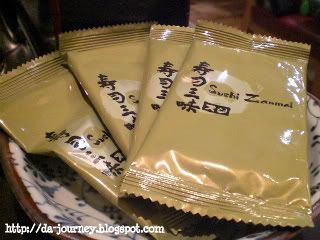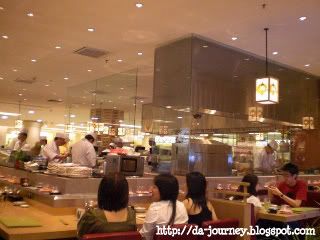 Open kitchen concept

Lets check out what we had...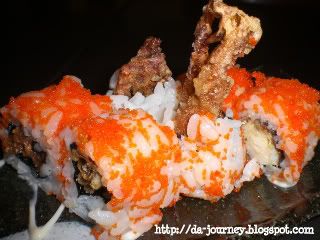 Soft shell crab maki (RM6.00)

Soft shell crab has always been one of our favourite and a must-to-order food everytime we visit a Japanese restaurant. This soft shell crab maki tasted very good and the soft shell crab was still very crispy. The portion was quite small but very worth the price.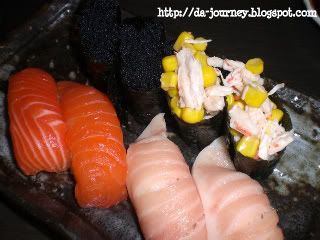 [Clockwise from top left] - Black caviar (RM3.80), Kani corn (RM1.60), Toro sushi (RM15.00), Salmon sushi (RM3.80)

Black caviar
- It was our first time trying this black caviar and I thought it would have some weird taste as I saw the angmoh eating it in Fear Factor and they were "yeewww...uuhh". In fact, it didn't taste anything. Just like normal fish roe.
Kani corn
- Nothing much special on this. It was only RM1.60, so worth the price.
Toro sushi
- Special credit needs to be given to this wonderful sushi. This tuna belly was absolutely delicious and it was really worth the price. We can truely understand the Chinese saying "yup hau jik yung" (melt in the mouth) after tasting this wonderful toro. We ordered another two pieces of this toro sushi to satisfy our taste buds.
Salmon sushi
- I didn't take this but according to LKC the salmon was very fresh.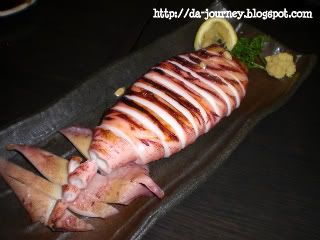 Surumeika Sugatayaki (RM15.00)

This is LKC's favourite. We had it at Pasta Zanmai before. The squid was server together with grinded ginger a piece of lemon.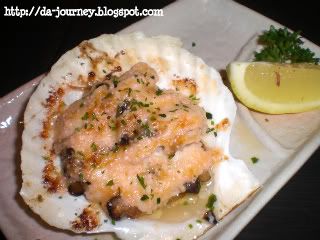 Hotate mentaiyaki (RM12.80)

This is scallop grilled with cod roe. The scallop was big and was very fresh. It tasted very nice but quite expensive though.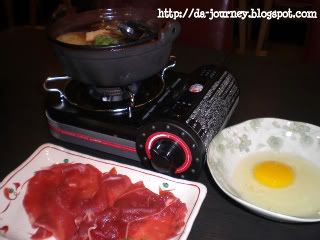 Sukiyaki (RM15.80)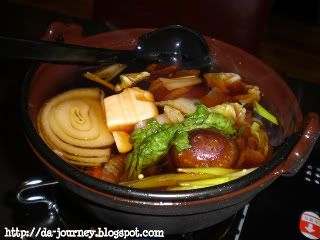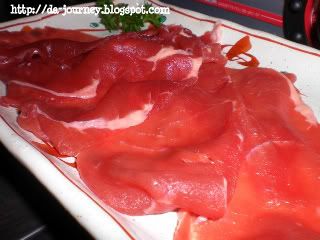 Another one of our favourite. The soy soup base was very "sukiyaki" taste and the beef serving was very generous too.
We ordered the Shiitake mushroom (RM3.80) but was too busy with the food and forgot to take a picture of it. The Shittake mushroom tasted so-so only. Will blog on the nicest Shiitake mushroom that I ever had on my next post. Stay tuned.
Food: 4 out of 5
All the food that we ordered tasted very good and very worth the money except for the Hotate mentaiyaki, which was a bit too expensive for just a small scallop. They have a large variety of food, from sashimi to sushi, from sukiyaki to bento. The food quality is way better than Genki Sushi or Sushi King.
Beverage: 2.5 out of 5
The beverages variety was not as large as what they have in Pasta Zanmai. We had bottomless green tea, so there is nothing much to comment on this.
Environment: 3.5 out of 5

Located in the least expected place for a restaurant, LKC complaint that it was rather hot. However, the beauty of this place was its open kitchen concept. If you enjoy self-service, you can choose the kaiten belt area. If you prefer to be served, then you can choose to sit at ala-carte area.
Service: 3 out of 5
Service was quite okay. The waiters/ waitresses were very attentive. Maybe the restaurant drew a large crowd because of its grand opening. Therefore the service was rather slow.
Price: 3 out of 5
Judging by the quality of the food that we had, it was worthy to pay such an expensive price. Our bill came out to be around RM110 but we were very satisfied with the meal especially the toro sushi. Btw, they are having 1st anniversary celebration from 2nd - 31st May 2008, where you will be entitled to get a RM20 rebate Sushi Zanmai voucher for every RM100 spent. So go and grab it before its' too late.