13th August 2008 (Day 1)
Arrived at First World Hotel at around 3pm and only managed to check-in at around 4pm. We booked the 888 Deals! Holiday Packages, which was only RM38.80 per room + breakfast for 2, quite a good deal huh??!!
Coffee Terrace
@ Lobby Floor, Genting Hotel. They were having Singapore Food Promotion which featuring Singapore hawker specialities. The buffer dinner cost RM55++ per pax. Luckily I brought my Citibank credit card along, which we were entitled to 10% discount.
We woke up as early as 9.30am to have our free buffet breakfast at the First World Cafe. Food like nasi lemak, porridge, steam pau, sausages, baked beans, ham, cereals, omelet, fried carrot cake and pastries were served on the buffet tables. After breakfast, we headed back to the room to shower and prepare ourselves for the exciting theme parks.
We bought the All-Day Pass which sold for RM51 per pax. We started off with the thrill rides at the outdoor theme park. We didn't really expect the place could be so crowded as it was the Hungry Ghost Festival that day. Some of the rides that we had were bumper boat, grand-prix fun kart, pirate ship, spinner, flying dragon and rolling thunder mine train. I didn't manage to play some of the most thrilling rides like Cyclone, Sungai Rejang Flume Ride, Corkscrew and Space Shot as my dearest LKC only has "sesame" guts (jee ma tam).
Bumper boat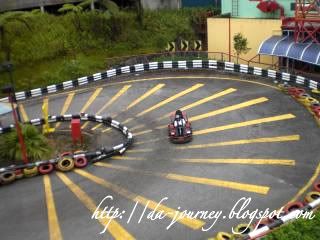 Go-kart
Pirate ship
Spinner
Corkscrew
First World Hotel
Later in the afternoon, my brother, sister-in-law and my niece, cid-cey-ceow arrived at Genting Highlands and checked-in to their room. After checking in, we headed to Hou Mei Noodle House at Level 2, First World Plaza for our late lunch. Both LKC and I ordered the chicken rice, which was expensive and not tasty at all. After lunch, we babysitted cid-cey-ceow and brought her to the theme parks, while my bro and his wife went to the casino.
Tea cup, pirate train, antique car, Matahari (ferris wheel) and double deck carousel were some of the family rides we played with cid-cey-ceow. We looked like a happy family.
Showing motherly love
Another motherly love
Showing fatherly love
Antique car
Tea cup
Tea cup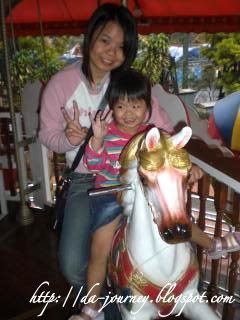 Double deck carousel
In the Matahari (ferris wheel)
Fish pond
Feeding fish
The outdoor theme park closed at 7pm and moved in to the indoor theme park at First World Plaza. Some of the rides that we had in this indoor theme park were Euro Express (the roller coaster), Venice Gondola and Reindeer Cruiser.
Venice Gondola
Venice Gondola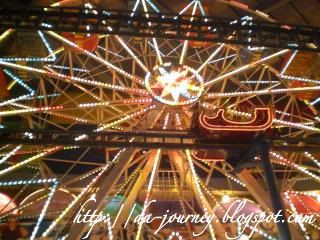 Ferris wheel
Ride de Paris
While bro and sis-in-law had their dinner, I brought cid-cey-ceow back to room and allowed her to take some nap and LKC went to Starbucks to online. We had our dinner at Pizza Factory @ Highlands Hotel. We ordered the Double Delight Set that cost RM35++ per set that came with a regular pepperoni delight pizza, 3 pieces of garlic bread, 3 pieces of chicken wings and 2 cans of Coke.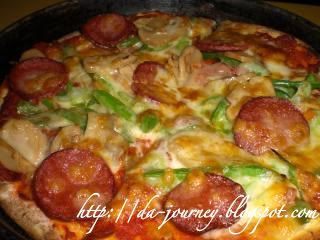 Pepperoni delight
Garlic bread
Chicken wings
After dinner, we went to the arcade centre and played a few games of the basketball and some other arcade games to win more tickets for the prize redemption. Spent a total of RM30 on the arcade games for 2 nights, but only managed to redeem a bowl and a cup for cid-cey-ceow.
As the indoor theme park only closed at 12am, we made full use of our all-park unlimited rides pass and played the last game of bumper car and 4D Motion master.
15th August 2008 (Day 3)
Woke up as early as 9am to have our free buffet breakfast again. After breakfast, we went back to the room to wash up and pack our stuff. We checked out at 12noon and went back home. Bro, sis-in-law and cid-cey-ceow stayed overnight at KL before returning to Ipoh on Saturday afternoon. Everyone was very tired and went back home to sleep in the afternoon. At around 7pm, we brought bro to have Ma La Sichuan steamboat at Jin Shan Cheng restaurant @ Dataran Mentari, Sunway (will review this restaurant soon) for dinner. After dinner, we walked around Sunway Pyramid to burn off some calories. Before heading home, we stopped by at the Tesco to buy some beers. Bro bought 4 large bottles of Tiger beers, 6 cans of Guiness Stout and another 3 cans of Anchor Strong beers for our drinking session. We played Big 2 and the one lost in the game was punished to drink. We called it a day when bro started to get drunk.