Craving for bak chang and hate waking up early to go to the pasar pagi? Afraid no more. Traditional Recipe Restaurant which is located at the Dataran Sunway, Kota Damansara serves bak chang all year long. You don't need to wait for the Bak Chang festival to have your bak chang.
We have visited this restaurant twice in less than a month (this shows how much we like the food here) and we ordered bak chang and abacus beads on both visits.
Lets start with some bak changs...
Golden Bak Chang
This is LKC's favourite. Stuffed in the bak chang were chicken, chinese sausage, pork, salted egg, chinese mushroom, chestnut, beans and of course not to forget the glutinous rice. Priced at RM8.50, this bak chang tasted very yummy. Neither too salty nor too bland. One thing good is the pork meat that they used. They used lean meat instead of 3 layers meat (3 chang yuk), which made the chang less oily.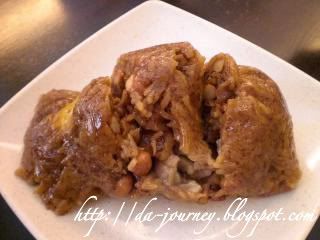 Hakka Chang
Hakka chang has always been one of my favourite chang because of the ingredients stuffed in the chang. Priced at RM6 (I think it's only RM4-5 if you get it from wet market), it has pork meat, chinese mushroom, salted egg, chestnut, dried shrimp and peanuts stuffed in the chang. I would prefer it in beans (don't know what is it called) than in peanuts. Anyway, this chang tasted delicious apart from the sinful pork meat that they used.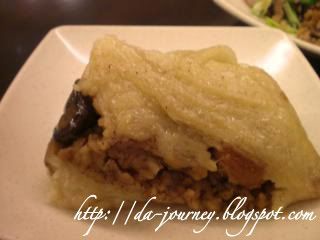 Cantonese Chang
Similar with the Hakka Chang, this Cantonese chang has pork meat, chinese mushroom, salted egg and chestnut stuffed in the glutinous rice. They used some beans (sorry, don't know how to read Chinese) instead of peanuts and it was only RM5. You might think that I would prefer this chang than the Hakka chang as they used beans. Nope, I didn't really like this. Still prefer the Hakka Chang. Not because I'm Hakka and bias on Hakka dish only. It is because I prefer my bak chang to be in darker colour instead. Somehow I feel that white chang doesn't attract my attention at all. Racist? Maybe...

Enough of changs...lets move on to some side dishes...

My all-time favourite, Hakka Yam Abacus Beads. It is very hard to find this dish nowadays as I think it's a tedious task to prepare this dish. Fyi, Hakka yam abacus beads is made out of mashed yam mixed with flour and shaped into round pellets that look like abacus beads. The beads were stir fried with dried shrimps, shredded chinese mushroom and chinese preserved vegetable (choy pou). Priced at only RM6.90, this dish was definitely value for money.

Tasted exactly like the one that my mum used to cook, this salted fish meat cake cost RM5.50 for 3 pieces. It's kinda pricey though but with the taste like a home-cooked dish, what else can you ask for?
It's desserts time...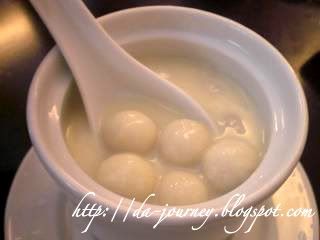 Soya Bean Sesame Glutinous Rice Ball
Now we don't need to wait till MidWinter Season to have tong yuen. Before ordering this, I thought that it was another frozen tong yuen served with soya bean. I was really surprised when I found out that the tong yuens were much more smaller than the frozen one. The sesame filling was generous and it wasn't too sweet. The best of all is of course the price. Selling at the price of RM4.50 and with the generous amount of glutinous rice balls, this is definitely something must try!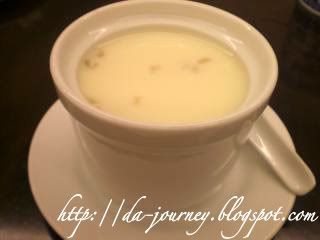 Soya Bean Snow Jelly
On our second visit, we had this soya bean snow jelly as our dessert. Priced at RM10 per bowl, imho I think it was kinda overpriced. Snow jelly is neither cheap nor expensive. I'm not sure what type of snow jelly that they used here but it was so much different from the one that my mum always prepares. We didn't really enjoy this dessert as both LKC and I didn't like ginkgo as well.

They also served different types of Chinese teas like Wulong tea, Jasmine Tea, Kwan Yin tea and etc with price ranged from RM3-5. IMHO again, this was overpriced as well as they were just using the normal tea bags that you can get from the supermarket with the price of RM20 for 50 bags.


Traditional Recipe Restaurant

No.12-1, Jalan PJU 5/7,

Dataran Sunway, Kota Damansara,
PJ.