22nd April 2009
Our flight to Krabi was scheduled to depart from LCCT at 12:05pm. We booked for a cab to pick us up at 9:00am and arrived at LCCT at around 10:00am. The newly expanded LCCT airport confused everyone flying on the same flight with us. What would be the first thing to check when you arrive at the airport to check-in? The check-in counter, right? Where do you check the check-in counter? From the LCD display right? The LCD display showed us to check-in at some counter (forgot the number). We were quite kiasu as we were 2nd in the queue even before the counter open. Usually internation flight counter will open 2 hours before the flight but we waited till 10:30am, the counter still remained closed and the queue was getting longer.
Thanks to my kaypoh-ness. I walked to the new wing of the LCCT and found a dedicated areas for flights to Thailand, Cambodia and Vietnam. Luckily we managed to check-in on time and still had time to have our breakfast.
Had breakfast at Theobroma Chocolate Lounge.
Mushroom cheese omelet, garlic bread and baked beans with coffee or boutique tea @ RM10.90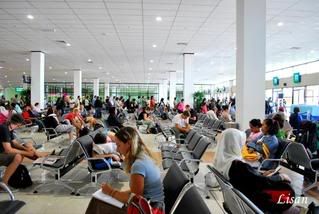 After breakfast, we went to the waiting lounge and waited for the gate to open. Everyone says that Air Asia always delays their flights and through my experience (I flew on Air Asia for 3 times before), I'm always the lucky one. All the flights departed on time. Hopefully my next flight in August would be on-time as well.
Arrived at Krabi airport around 12.30pm and there was a guy already waited for us when we arrived as we booked for airport transfer from the hotel. This pick-up guy didn't know his way back to the hotel though he is a worker there. We spent more than an hour to arrive at the hotel when in actual, the hotel is only 45 minutes away from the airport.
Anyway, we checked-in to
Krabi La Playa Resort
located nearby Ao Nang beach. We booked the hotel via
Asia Web Direct
website which they were having promotion of "buy 2 nights free 1 night". We checked-in to a Superior room. The room was quite big but there was no bath tub in the bathroom though the bathroom was big too.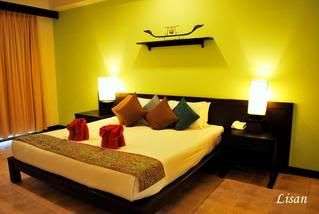 Towels folded into elephant shape...so cute
After unpacking our luggage and changing, we went to walk around to look for food. We took the "tuk tuk" ride to the Krabi town and the charge for the ride was 50 baht per person. Krabi town is a very small town with just few main roads. Most of the shops were selling similar products like food and clothes.
Outside the restaurant
Seafood tom yam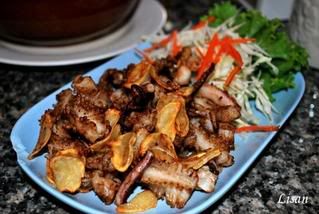 Fried squid
Fried kai lan with salted fish
We were not sure if this restaurant was a famous one or not, but the quality of the food was superb. The seafood tom yam was sourly and spicy enough and generous amount of seafood like squids, fish, crabs and prawns. The fried squid was something different from the one we have in Malaysia and it was something very special and tasty. The fried kai lan with salted fish was not something very special but it was great as well. The total bill cost less than 500 baht, i.e less than RM50. Considering the generous amount of seafood in the tom yam soup and the quality of the food, the meal was definitely worth the price. You can't find this kind of taste in any of the famous Thai restaurants like Good Evening Bangkok, Amarin Thai and etc.
After our late lunch, we walked around the Krabi town. When I go travelling, I like to visit their local 7-Eleven store to check out the local specialties. We bought lots of Lays potato chips and Rocky chocolate sticks. Lays potato chips is always selling very expensive in Malaysia, at least RM7 and above while in Thailand, it was selling for less than 50 baht, moreover they have their own local flavours like tom yam and spicy lime flavour. Super yummylicious.
There was nothing much to do in the Krabi town, we headed back to Ao Nang by the tuk-tuk again. Please bear in my mind that the tuk-tuk rate will be increased after 6pm. The ride costs 50 baht per person before 6pm, it will cost 60 baht per person after 6pm.
Once we reached Ao Nang, we went to a store nearby our hotel to book for the day trip for the next day. It was one of the store we found that provide Phi Phi Island day tour at the cheapest price. On average, the Phi Phi Island day tour will cost around 1300 - 1400 baht per person. We were lucky enough as we paid 900 baht only.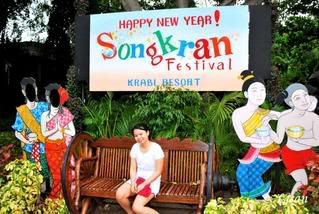 The Ao Nang beach was around 5 minutes walk from our hotel. There was a stretch of shops along the Ao Nang beach. The shops mostly are selling clothes, souvenirs, massage parlours and restaurants.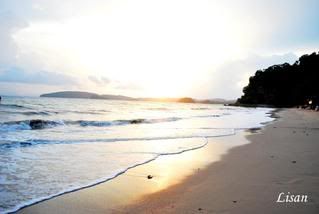 Sunset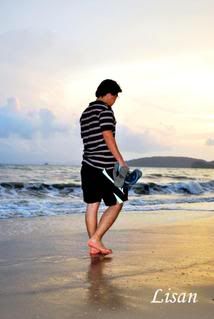 Restaurants by the seaside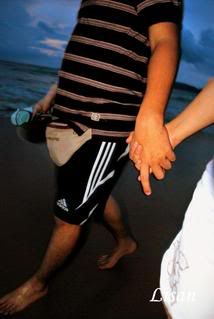 LKC and LPC @ Ao Nang Beach, Krabi (please don't look at LKC's big tummy)
We had our dinner at one of the seafood restaurant by the seaside. We ordered a set of seafood which consisted of clams, mussels, flower crab and fish, and had it barbecued. This set of seafood cost around 350 baht (I think). Additionally, we ordered another 2 big prawns for around 300baht, a plate of mixed vegetables for 70 baht and a bowl of cream of mushroom soup for 50 baht. The price of the seafood didn't seem to be very cheap but the freshness of the seafood was worth the price that we were paying.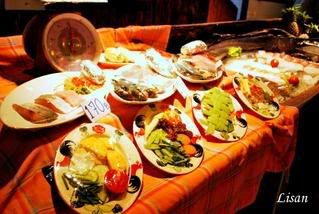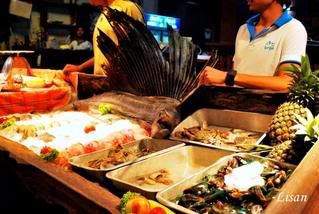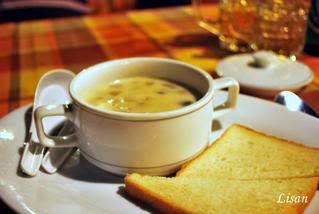 Cream of mushroom soup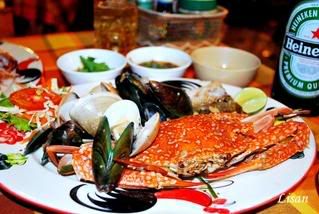 Seafood platter (crab, clams, mussels and fish)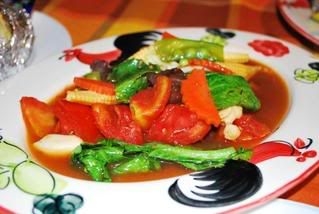 Stir-fry mixed vegetables
If I were to have to drink beer, Heineken would be my choice of beers (exclude the Hoegarden and etc). A bottle of large Heineken beer cost less than 100 baht (if I'm correct). It's a heaven for the "kaki botol" like LKC.